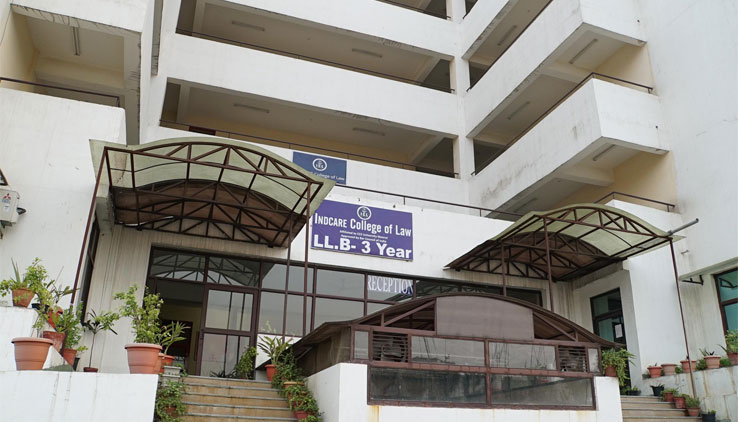 Housed in the spacious building ICL, at Greater Noida, has well-ventilated classrooms, principal's room, office rooms, library, computer labs, separate common rooms for boys/girls, faculty rooms, sports rooms, indoor auditorium and canteen.
MOOT COURT
Indcare College of Law facilitates continuous training to the students to participate in Moot Court competitions organized by various universities and law schools in and outside Delhi. The College also plans to host a number of moot court competitions to test the mettle of the future lawyers of the country in the recent time.
LIBRARY
The software enabled library with e-catalogued books, is managed by the competent and experienced Librarian. A spacious reading room having a seating capacity of more than 60 students has been provided.
The Library has more than 1000+ books, Law reports, periodicals, newspapers, Indian & foreign journals on Law and pre-Law for student reference. The library is equipped with comfortable seating arrangement, facing partitioning for privacy and is installed with photocopier-cum-scanner.
The students can avail of library facilities from 9:45 am to 5:30 pm. This timing is extended during the month preceding examinations
CLASS ROOM
The College emphasizes on quality class room teaching for developing legal understanding for grooming the students of law with social responsibility reflected through the best academics, working in the best environment, with a regular system of updation on current social, economic, political issues of legal relevance in purely transparent and accountable setup. The college is home to a lot of state of the art facilities which help the overall personality development of the students. The classrooms at ICL are spacious and acoustically designed. Each classroom is equipped with display boards and modern audio-visual aids, suitable for technology based learning. Every single student is a focus of bilateral process of understanding and growth in the galaxy of thoughts and reasons.
LEGAL AID CLINIC
ICL have setup Legal Aid Cell at College to assist the under privileged and rural community in its endeavour to secure the Justice for all. Through this Clinic, the College aims to stimulate thinking and redefine understanding of our Law students on the legal angle to disputes/ complexities at large, legal services market, social obligation and responsibilities retained on legal practitioners to provide good quality legal services that deliver fair excess to justice for people who cannot otherwise afford it. The clinic aims to afford an opportunity to every student to play important active role in legal empowerment of marginalized sections of the society.